About Me
THE UKs LARGEST INDEPENDENT COMICS PUBLISHER Between 1984-1994 I worked freelance as a writer/artist/editor/agent in comics as well as comics journalism for MU Press,Blue Comet Press,Fantagraphic Books,Eros Comics,Dorne,Fleetway,IPC and others in the United States,UK and Europe. During this period I also produced large numbers of single panel gag cartoons for agencies in Germany such as Boiselle-Lohmann and Baaske Agency –these going to magazines and publications around Europe. I also worked as a freelance editor in comics and publications ranging from wildlife,astronomy and science fiction magazines. From 1984 to present I've been self publishing comics as well as publications on a wide variety of subjects under the Black Tower banner. I have also produced packages of work for companies in India,Hong Kong and China. I have also been working as an industry advisor for smaller companies in countries such as India,Canada,Singapore,China,Europe and the US. hoopercomicsuk@yahoo.com
View my complete profile

Friday, 2 October 2015
Ever the Popularist, I decided that, as some people have asked, I would give more detail about the contents of my books so here goes.
Some Things Strange & Sinister (2013 -up-dated)
Ships in 3–5 business days
After more than 30 years as an investigator and more than forty as a naturalist,the author has opened some of the many files he has accumulated dealing with such things as..
The Terrifying Events At The Lamb Inn, The Ghosts Of All Saints Church, Dead Aquatic Creatures of Canvey Island, captured bigfoot like creatures in India -all exclusively presented for the first time and with new added research previously unseen.
PLUS a vastly expanded section on Spring-heeled Jack!
Photographs, maps, line drawings and up-dated to make 358 pages looking at Things truly Strange and Sinister.
Cryptozoologist,Ghost Hunter,Ufologist or Fortean:this book has something for everyone -including the just plain inquisitive!
Contents
Foreword by Travis L. Whitehurst
Introduction
de occultis non judicat ecclesia

The Bristol Rocking Horse

The Terrifying Events At The Lamb Inn

The Coonian Ghost

The Ghosts Of All Saints Church

His Luminous Chamber

The Late Reverend Dr. Blomberg

And More Ghost Stories

The Thomas B. Cumpston Case

The Chupacabra

The Strange Case Of The Gotherington Gargoyle

What's Tall,Hairy And Vanishes?

Mystery Beasts Of Ireland

The Creature Of The Dump

The Strange Creature Of Repton Woods

The Bizarre Legends,Crimes And Truth About Spring Heeled Jack

The Black Beast Of Darmstadt

The Nameless Thing Of Berkley Square

The Terrifying Case Of The U.S. Naval Transport

The Case Of The Ghost Lear Jet

Ghost Planes,Crashes And Dead Aquatic Creatures

The Mitchison Loch Ness Monster Video

From The Deep Below To The Air Above –USOs

Aerial Encounters Over Austria

A Crashed UFO In 1790?

Angel Hair

Quimper-Corentin:Where "Thunder Fell"

Strange Aliens From Space

The Llandrillo 'Saucer' And Other Crash Retrievals

Transient Lunar Phenomena,Alien Structures And Moon Vegetation

Whiddon Down-Saint-Jean-du-Guard:Impossible Correlations?

The Venezuelan Horror
A Final Word.
Alleged piece of crashed UFO from Berwyn Mountains, Wales.
Some More Things Strange & Sinister
Terry Hooper-Scharf

Paperback,
A4
327 Pages
Heavily illustrated
Price:
£15.00
Ships in 3–5 business days
Follow-up to the hugely successful Some Things Strange & Sinister.
For those interested in Ufology, cryptozoology, hominology, unusual natural history, ghosts and mysteries in general.
The secret history of gorillas in the UK -before they were officially 'discovered'. The history of the Wild men of Europe, the UK and US: something that in the 1800s become very "pop culture" Very pop culture and totally forgotten today!
Hominology. Sasquatch and Bigfoot -is there evidence for their existence? No sitting on the fence here -the Patterson-Gimlin film is looked at as well as other evidence. The Author's conclusions? You might be surprised.
Giant snakes. Amazons. The Giant serpent of Carthage. The Girt Dog of Ennerdale -another big cult 'creature' amongst paranormal and cryptozoological circles. The Beast of Gevaudan -what was it and were there really descendents of the creature in the 19th century -one of which was actually brought to London?
Believe it or not more than one incident of historical crocodiles cases in the UK. In fact, far more than even the Author had thought .
And, after more than a century of claims by 'researchers' that it no longer exists: The Silent City of Alaska and the near legendary 'lost' photograph taken of it.
This and much more. Updated with extra pages and photographs.
Introduction:Investigation And Research Is Not Debunking 4
Gorillas:Pre-'Discovery' To Discovery And Beyond 9
The Barking Beast Of Bath:The Facts! 40
Primates –Escapes and Hunts 51
Whatever Happened To The Texas Wild Woman? 92
The Wild Man Of Hungary 96
A Funny Wild Man Story? 97
The Case Of The Bohemian Wild Man 98
The Long Tailed Wild Man Of Kentucky 100
The Wild Man Of Marcross Cwm 101
The Wild Man Of Wallingford 103
The Wild Man Of Indiana 105
The Wild Man That Was Then Wasn't 107
The Wild Man's A Yowie! 110
The Running Bear, Or Wild Man –Or Sasquatch? 117
The Wild Man Who Rode A Horse! 118
The Indiana Captive Wild Man 120
The Terrifying Wild Man Of Kansas 121
The Wild Man Of Petit Quevilly 125
Where Strikes The Wild Man Of Galicia? 126
What Was The "African Udilacus"? 128
The Wisconsin Wild Man –The End Of An Era 131
The Yeti Of Bourganeuf 133
Of Cokadrilles And Saints 145
More Crocodile Stories 151
The Suffolk Flying Killer 159
The Giant Serpent Of Carthage 163
Another Giant African Snake 167
Mystery Constrictors Of Texas And Canada! 169
The Giant Kentuckian Snake 173
The U-Boat And The Sea Monster 175
The Beast Of Faudiere –Mystery Killer 179
The "Girt Dog" Of Ennerdale 180
The Beast Of Gevaudan 201
The Greenwich Park Elemental 225
The Carancas Meteorite –Bringer Of Doom? 241
The New England Darkness 251
Medieval "Skyships" –"From The Sea Above" 258
Bristol –Seen In The Skies Of Alaska? 263
The shark Eating Monster 276
The Ghost Photograph That Cannot Be Explained? 282
Two Cases From The Borderline 286
Tales From A German Wood 275
Flower-Stealing Aliens 294
What Landed At Gatton? 297
The Crawfordville Monster 300
The Mystery Of The Raifuku Maru 305
Attack Of The Amazons! 309
The Case Of The British Bigfoot 319
Pursuing The Strange And Weird -A Naturalist's Viewpoint (2014 up-date)
Ships in 3-5 business days.
UP DATE -From Dead Aquatic (Humanoid) Creatures, the giant squid and yet undiscovered sea creatures; submarine and ships crews encountering true leviathans.
There is a fully expanded section which also refers to the so-called 'Ningen' sightings and video footage.
Extinct animals at sea that have been re-discovered. The subject of Sasquatch and other mystery Hominids around the world is dealt with including a look at the "Sasquatch-killer", Justin Smeja.
Dr. Bryan Sykes and his DNA test results for TVs The Bigfoot Files as well as the controversial Erickson Project and Dr. Melba Ketchum's Even more controversial Sasquatch DNA test results.
Also included are two early French UFO entity cases that still baffle. Ghosts, strange creatures and the Star-Child hoax. All dealt with by the naturalist and pursuer of the strange and weird
Introduction –I Am Quite Normal 4
Those U.S.O., Sea Monsters, Giant Squid And Things That Go "Bloop" 11
Giant Jelly-fish * Shark-killing Giant Jelly-fish * Steller's Sea Cow * Carribean Seal * Sharks * Thought Extinct and "re-discovered" * Giant Squid * Giant Octopus * Light Wheels In The Sea * Unidentified Submarine Objects (USOs) * "Bloop" * Ribbon Fish * Dead Aquatic (Humanoid) Creatures * Mermaids * Angler Fish * Sea Serpents* Sea Monsters Past and Present.
On The Scientific 'Need' To Kill A Sasquatch 111
Dmitri Bayanov and the anti "kill a Sasquatch" argument and John Green and John Steenburg on the need to kill a Sasquatch: is it necessary to kill an individual of what might be a rare relic population of hominids?
The Texas Bigfoot Research Conservancy Has Blood On Its Hands 117
The TBRC has now claimed to have shot and wounded Sasquatch creatures. The Bigfoot community is up in arms that an organisation set up to research and conserve these creatures is apparently turning to the gun to "scientifically prove" the Sasquatch is real by producing a body.
On Gathering Hard evidence 122
Rather than kill a Sasquatch or any other unknown creature is there an alternative to prove they exist? The simple answer is "yes".
The Patterson-Gimlin Film 129
Filmed in 1967, the brief footage of "Patty" was shaky and split the scientific community in two regarding its authenticity. With the film now digitally cleaned, image steadied and modern scientific techniques used to analyse it why is it getting harder to believe it is a hoax?
No, South America Does Not Have A Sasquatch 142
South America from Patagonia up to Mexico has its own set of mysterious hominid creatures from the Mapirangua to Ucu. The comparisons between the Yeti, Sasquatch and these creatures are striking; from basic tools to habitat.
Tales From A German Wood 152
Raccoon-like dogs, a mystery primate and much more seem to have focussed on a little village in Germany.
The Strange Case Of The Gotherington Gargoyle 156
UFO reports and the sighting by an off duty fireman of what he could only describe as a "hideous gargoyle" creature.
The Strange Creature of Repton Wood 165
UFO sightings and a report of a strange, bi-pedal fox-like creature that vanished into the ground!
The 'alien-human hybrid' hoax exposed but what was the "Chicken Man" –a real alien hybrid?
The Strange Creature On The Beach 188
Just what did a couple on holiday photograph on a German beach –a strange creature from out of time and space?
Photographic Evidence That Dinosaurs Exist? 195
The Kasai Rex photographs said to have been taken in the 1930s in two different parts of Africa are said to show dinosaurs still existed. And what of the hunt for the African Brontosaurus –and what happened to Stevens?
First Ever UFO Photograph Or Proof Of Early Airships? 206
It is claimed to be the first ever UFO photograph and was taken on a mountain top in the United States in 1870 –the best evidence of UFOs in the past or experimental airship flights?
Two Early French Entity Cases 212
Did Masse encounter a landed flying saucer in 1965 and see two entities? And why did he vow never to reveal what happened during the encounter –taking the secret to his grave? And what of Dewilde in 1954 –was he paralysed by a UFO while the occupants went about their business? Did his dog die because of the encounter?
Sasquatch DNA evidence breakthrough? Did Justin Smeja deliberately shoot two Sasquatch creatures and will the evidence prove it? How you can help gather information on the strange and weird.
The Bizarre Legends, Crimes And Truth About Spring Heeled Jack (2014)
Terry Hooper-Scharf
Paperback,
53 Pages
Dimensions (centimetres) 20.98 wide x 29.69 tall (A4)
fully illustrated and referenced
Price:
£7.00
Ships in 3–5 business days
The terror and mystery created by "Jack The Ripper" has been the subject of countless books, magazine articles as well as movies and TV documentaries. Ask anyone if they have ever heard of Jack The Ripper and it is doubtful anyone would respond with a "no idea."
By that same token, ask people who "Spring-heeled Jack" was and you would be lucky to find anyone who had ever heard of him.
Spring-heeled Jack was the subject (loosely) of a film The Curse of the Wraydons (1946) and Dominic Keating also appeared as Spring Heeled Jack in the 2010 film Sherlock Holmes by The Asylum film company. The character has also featured in both American and British comic books and a number of books, for both children and adults.
But the fact that the Springald held the country –not just London– in a grip of terror much longer that the Ripper did is all but forgotten except for some half-truths and fanciful theories.
Now be prepared to read the

full story of Spring Heeled Jack
And if any of that piqued your curiousity then, in 2016.....
From Behind Time & Space?
For all those big Hollywood stars who won't get out of bed for less that $20 million, there are
thousands
of well known and not well known actors who get ripped off and cheated on fees and payments. The BBC was always like this and spawned generations of 'jokes'.
Basically, it's like comics. The "big stars" as they like to see themselves, get the money, often for grubby and not well thought out stories. But so long as they produce the crap and people buy it because they "did a good series/story once" they keep employed but on the Bosses' terms. They know what goes on with the "lesser talents" but apart from the odd word when it seems hip/cool they do not give a shit.
Warren Clarke was one of my favourite actors -including his role as rugby playing friend of Hywel Bennett in the 1970s/80s TV comedy
Shelley.
Reading this is pretty fecking grim. He was a household name/face but after 50 years of work...dying penniless is just tragic. There are many hundreds of stories like this in the comics field -most (99%) fans don't know about because "that was before our time -its better now!" and they do not read comic history. The great Sal Buscema has to touch up and finish work by current 'stars' because they have no idea/skill. There are others -most kicked out of work because old faces do not fit. Not hip. Not cool.
Read this. If it for one second makes you a bit sad then you may have some hope. It depresses the hell out of me.
Dalziel And Pascoe Star Warren Clarke Died Penniless
Veteran British actor Warren Clarke died penniless, it has emerged.
According to the Daily Telegraph, Clarke, who was the star of TV shows like 'Dalziel And Pascoe' and recently Poldark', left an estate of just over £13,000.
But probate records show that after paying costs, the figure was reduced to nil.
Oldham-born Clarke died in his sleep in November last year, following a short illness, aged 67.
The released records showed that he made his will four years prior to his death, and left his watches to his son, Rowan.
He had a career that spanned 50 years, including starring in movies and a wealth of TV series.
But he'd often spoken about the poor wages afforded jobbing actors, and that while he was filming the acclaimed BBC series 'Nice Work', his bank card was rejected.
In an interview, he said: "In those days the BBC didn't pay you until you had done the first studio recording, so I had been working on the show for two months without any money.
"I went to the cashpoint, put my card in the machine and it spat it out.
"A few months later, I noticed that my wife wasn't wearing her engagement ring. I asked her where it was and she explained it was being repaired."
As well as a high-profile TV career, his final performance being in the BBC's 'Poldark', Clarke also starred in a host of movies.
He played Dim in Kubrick's adaptation of 'A Clockwork Orange', as well as roles in 'Top Secret!', 'Anthony and Cleopatra', 'Hawk The Slayer', 'Ishtar' and 'Firefox'.
Image credits: Rex Features
Thursday, 1 October 2015
This Book Could Stop You From Being ETERNALLY DAMNED!
I may have lied there.
Ben R. Dilworth
black & White
A4
Paperback,
36 Pages
Ships in 3–5 business days
Murdering Ghouls. Satanic Masses. Demonic Possession. Werewolves. Poltergeists. Vampires. To many of the uninitiated these are just "things that go bump in the night" -TV or film fantasy.
In the Victorian era, The Phantom Detective used his decades of occult study to help those in danger from these "things" and he paid the ultimate price…. ….
Yet he continues to help and to observe as best he can for now he is a true...
From one of the UK's most under -rated comic creators, Ben R. Dilworth, comes new life breathed into and a new slant given to the adventures of the former mortal who has become one of the Watchers -forbidden to act even to save a life from supernatural forces. Except "rules are there to be broken or at the very least stretched until you can see through them!"
The much anticipated collection from the co-creator of Peter Wisdom and artist of Mark Millar's The Shadowmen!
It's Hammer Horror Meets Quatermass
Well, I think it is. Okay, Hammer Horror would have optioned Dene Vernon for movies back then if comics were not considered "childish literature" -how things change.
And the book is now ONLY £6.00!!!!!!!!!!
Dene Vernon -The Character And The THING Below!

If any of you out there has purchased Black Tower Golden Age Collection vol.1 you would have found the strip
Dene Vernon -The Burning Heart"
. But who is Dene Vernon and why is he important to British comics history?
Firstly,his proper credit was "
Dene Vernon. Ghost Investigator
". In the 1930s and 1940s the work of ghost investigators such as Harry Price [despite what people write about his work at Borley Rectory] and the great Elliott O'Donnell could be found reported on in national newspapers as well as on radio.
If they could inspire me as a teen to get involved in this type of work imagine the effect on everyday folk in the pre-TV era and before all the faking of Most Haunted and Ghost Hunters, Ghost Adventures as well as others.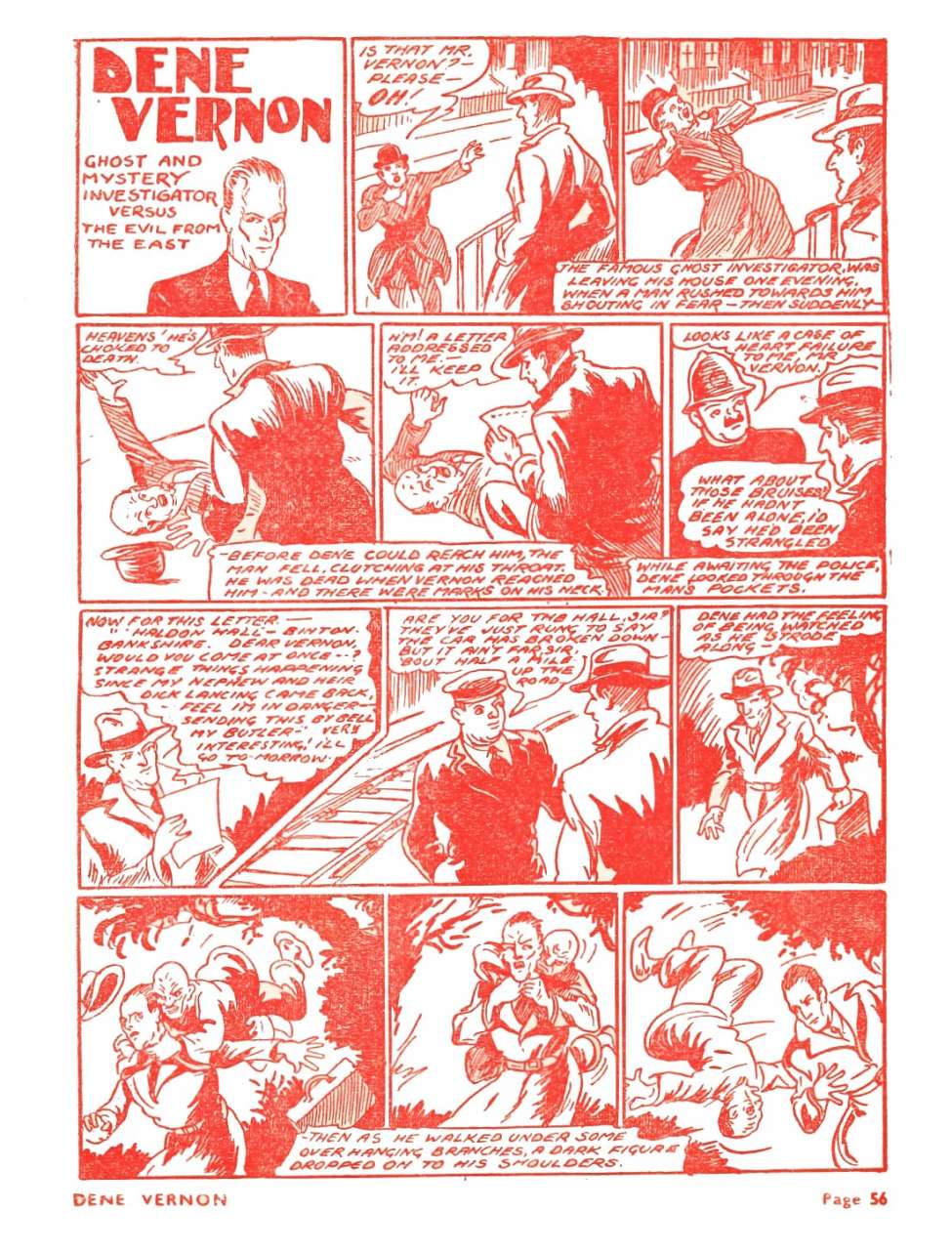 But Amalgamated Press and D.C. Thomson were too "clean" to touch this type of subject unless it was a "real hoot" in a humour strip.
Gerald Swan changed all that. His comics introduced a whole group of paranormal/occult types from
Krakos The Egyptian
to
Robert Lovett:Back From The Dead
[all subjects of Black Tower collections]. Vernon's appearance in
Thrill Comics
No.1,April,1940,marked the very first truly supernatural strip series in British Comics.
Tall,lean with a high forehead and thinning hair,Vernon bore a resemblance to the young Harry Price in a way. However,his cases seem to have been pure O'Donnell and in case you are asking who O'Donnell is I give you Wikipedia's somewhat weak entry on the man:
Elliott O'Donnell
(February 27, 1872 – May 8, 1965) was an Irish author known primarily for his books about ghosts. He claimed to have seen a ghost, described as an elemental figured covered with spots, when he was five years old. He also claimed to have been strangled by a mysterious phantom in Dublin.
He claimed descent from Irish chieftains of ancient times, including Niall of the Nine Hostages (the King Arthur of Irish folklore) and Red Hugh, who fought the English in the sixteenth century. O'Donnell was educated at Clifton College, Bristol, England, and Queen's Service Academy, Dublin, Ireland.
In later life he became a ghost hunter, but first he traveled in America, working on a range in Oregon and becoming a policeman during the Chicago Railway Strike of 1894. Returning to England, he worked as a schoolmaster and trained for the theater. He served in the British army in World War I, and later acted on stage and in movies.
His first book, written in his spare time, was a psychic thriller titled
For Satan's Sake
(1904). From this point onward, he became a writer. He wrote several popular novels but specialized in what were claimed as true stories of ghosts and hauntings. These were immensely popular, but his flamboyant style and amazing stories suggest that he embroidered fact with a romantic flair for fiction.
As he became known as an authority on the supernatural, he was called upon as a ghost hunter. He also lectured and broadcast (radio and television) on the paranormal in Britain and the United States. In addition to his more than 50 books, he wrote scores of articles and stories for national newspapers and magazines. He claimed "I have investigated, sometimes alone, and sometimes with other people and the press, many cases of reputed hauntings. I believe in ghosts but am not a spiritualist."
Remember that bit about being strangled by a ghost [not unique in the lore itself]. This is what Denis Gifford wrote about Vernon's first adventure:
"..Vernon spends the night in a haunted bedroom where a weary wanderer was found on the floor. 'A gasp of horror came as they gazed on the terror-distorted features of the dead traveller!' Vernon saves Dick from being throttled by a grinning black monster,chained by its neck since 1785. But he had to burn the house down to do it."
You know, I am quite sure that there is a similar O'Donnell story -though he never burns places down!
The creator of the strip was Jock McCail who also drew oriental detective
Ah Wong
for Swan's
New Funnies
[1940-1949],
Darrell King Of The Secret Service
in
Thrill Comics
[1940-48],
New Funnies
[1949] and
Slick Fun
[1950]. McCail also drew
Get-Your-Man-Gilligan
, a Western strip for the Amalgamated Press title
Jolly
between 1938-39.
Dene Vernon ran as a strip between 1940-1946 so must have been popular -as many of the Swan horror strips were.
It would be nice to put together a complete Dene Vernon book at some point but these old British comics are very rare to get hold of either as printed items or scans!
But, in 2011, Vernon featured in his first adventure since 1946. Yes, post-war Britain was the setting for…
DENE VERNON -THE THING FROM BELOW!
Writer: Terry Hooper-Scharf
Artist: Gavin Stuart Ross
Ships in 3-5 business days.
It was the 1940s and he was the first British comics investigator of the supernatural. Dene Vernon -Man Of Mystery! Terrifying hauntings. Werewolves. Supernatural Cults. Dene Vernon faced them all and triumphed. But then the comics stopped!
But now Dene Vernon gets his first adventure in 60 years.
Set in the late 1940s, Vernon is recovering from injuries sustained in a previous case which almost cost him his life. Now in a brooding depression he is called upon to investigate mystery deaths in the bombed ruins of London dockland.
Despite the assistance of one of the Silvermaigne family - famous werewolf, demon and vampire hunters- it looks as though the threat of Lorimed may be the Man of Mystery's last....
If you liked Hammer Horror films, Quatermass or horror comics then this one is for you and all presented the way horror comics are supposed to be presented in
GLORIOUS
MONOCHROME!
I think over 60 years was a long enough rest for him -and
THE THING FROM BELOW
was enough of a
tough task for him but...well, his final fate in The Green Skies is really ...."gutting" hehehehehe

er, Sorry.
But maybe an appearance in Black Tower Super Heroes before that? I can't really say -I don't want to spoil the fun!!
Remember the name, though: Dene Vernon!
And just to prove how I love you all...I decided now might be a good time to treat you to a listing of some of Black Tower's books.
If you are an overseas (non-UK) publisher interested in publishing any title under licence please get in touch via
blacktowercg@hotmail.com
_______________________________________________________________________________
BTCG has specialised in presenting original material covering super heroes, crime, adventure, sci fi, horror as well as illustrated prose -not to mention ground breaking books on "world mysteries" and wildlife. Oh, and even a huge book of interviews with comic creators and publishers.
All the books are, naturally, available for overseas licence -but we cannot translate work: that will be up to any licensed publisher.
What follows is a brief glimpse at some books but you can visit the online store to see more details and books at:
You can also find some on Amazon and other sources but they do not make me much money so, come on, buy from the online store and remember that at least these books will be collectibles!
To contact me please check out "About" at the top of the page -thanks!
****************************************************************************
Black Tower Comics
began in 1984 as a Small Press publisher of A5 (US -Digest size) titles such as
Adventure
,
Presents,Windows
and
Hanley's Garage.
Then came the news, reviews, previews and interviews publication backed up by the mart and mail order service -
Zine Zone
(later
Zine Zone International
).
In 2009, with the innovation in publishing of Print On Demand (POD), Black Tower jumped in head first!
One of the first titles to see print in the new comic album format (A4) was
The Bat Triumphant!
This saw the complete story, begun in Black Tower Adventure vol. 1. William A. Ward's long lost 1940s character once again saw print as he fought a host of enemies in an attempt to reclaim his homeland.
And while The Bat may have fought fist and nail to reclaim his homeland, another 1940s Ward creation,
Krakos the Egyptian
, seemed far from willing to claim a new Egyptian Empire as promised to him by the Gods. Tackling a number of foes and even encountering the Many-Eyed One, Krakos turned his back on the gods and the final panel of
Krakos -Sands Of Terror
, delivered a true twist!
Of course, the flag-ship title had to return! And so
Black Tower Adventure
-eventually reaching new heights when the legendary Ben Dilworth jumped on board! Volume 2 consisted of ten issues. Just look at these covers....
And, with something like 40 years worth of files and investigation reports could all that much delving into UFOs, lake and sea creatures and many other mysteries not result in a book or two...or three?
Some Things Strange
&
Sinister, Some More Things Strange & Sinister
as well as
Pursuing The Strange and Weird: A Naturalist's Viewpoint
set a precedence.
Whereas for decades those involved in "UFOlogy", "Cryptozoology" and "Forteana" declared many mysteries, that photographs were lost "to history" and so on, these three books swiped away the false claims. Alleged lost photographs -found. 'Mysteries' solved by doing actual research work and reading the sources -something others had never done.
And, of course, mention natural history and Black Tower Books broke new ground with that in
The Red Paper: Canids
-over 40 years research work crammed into one handy book for you! It's also available on Amazon, etc..
But not all the prose books covered mysteries and wildlife.
There were the comic creator interviews, too!
The Hooper Interviews!
To celebrate, at the time of publication, over 25 years of interviewing comic creators -writers, artists and publishers- this 365 pages book was produced.
Interviewees included Yishan Li, Marv Wolfman, Dave Ryan, John Cooper, Mike Western, Donna Barr, Roberta Gregory, Sonia Leong, Emma Vieceli, Pekka A. Manninen, Alan Class, Karen Rubins, Kate Glasheen, Ron Fortier, Jon Haward, Franco Francavilla, Rick Geary, Tania Del Rio, The Etherington Brothers, Olivier Cadic (Cinebook the 9th Art), Holly Golightly and MANY others.
Profusely illustrated with art and photographs!
And if there is one thing "Herr Professor" loves it is discovering and presenting long lost UK Golden Age (1939-1951) comic strips and characters from publishers such as Gerald Swan, Foldes, Denis M. Reader, Cartoon Art Productions and others.
Scanned and restored as best as can be considering the poor print quality of the rationing years -especially red, orange, yellow, blue and purple ink printing!
Ace Hart The Atomic Man! The Tornado! TNT Tom! Dene Vernon! Acromaid! Cat-Girl! Bring 'Em Back Hank! Robert Lovett:Back From The Dead and so many other action heroes and humour strip characters -William A. Ward, Jock McCaill and a host of known and unknown creators contribute -either in single volume "
Black Tower Gold
" albums or all six collected into the 400+ pager -
The Ultimate British Golden Age Collection
!
The Collected book is available on Amazon, etc. -but I get VERY little back from sales.
Another great love is Centaur Comics from the United States. Right at the very start of the American Golden Age of Comics Centaur had creators who were ahead of the others! Before Plastic Man there was
Plymo
! Before The Human Bomb there was
TNT Todd!
Before Green Arrow and waaaaaaay before Hawkeye there was the mysterious red hooded archer called
The Arrow
! And, to just break your comic mind world there was even a
Black Panther
-decades before Kirby came up with his character of the same name.
The Eye Sees All. The Owl. The Iron Skull. Amazing Man. The King of Darkness. The Invisible Terror. The Blue Lady. The Shark. Mini Midget & Kitty. Mighty Man. Super Anne. The company may have been short-lived but it's characters -oh boy!
The two volume
Centaur Heroes Collection
has been compiled into one sweet 140 page comic collection!
Horror. Ghost stories. The twist-in-the tale. Did you think that a publisher who is a big horror comic/film fan would ignore these?
Nope. Each year since 2010, BTCG has published a
Tales Of Terror
anthology album and 2014s included some fun and spooky lost Swan Comic strips. I mean how can you go wrong -even Ben Dilworth is in these!
The Church Of England has it's own basher of dark forces in the Reverend Merriwether -"God's Demon0-Thumper" as the press billed him. From an ancient Egyptian demon to a village of the damned and Varney the Vampyre, werwolves and a final confrontation with Satan himself -Merriwether pulls no punches and offers no compromise. And in those last few seconds between life and death, Merriwether's mind recalls past cases -thanks to Ben Dilworththe Tall Man of Osaka.
Merriwether: God's Demon Thumper
and
Merriwether: The Test Of Satan
are available as individual comic albums or in one swanky book
The Collected Merriwether: God's Demon Thumper.
Oh, did I forget to mention Dene Vernon -British comics' first investigator of the supernatural and strange mysteries? I did? Unbelievable since Gavin Stuart Ross drew the 1948 based
Dene Vernon: The Thing Below!
And did you know Ross also drew the two adventures of Victorian mystery man Chung Ling Soo?
Chung Ling Soo: The Curse Of The Jade Dragon
and
Chung Ling Soo: The Case Of The Thames Serpent
were two cracking tales of magic, adventure, murder and deception -still available as single comic albums or collected together to form
The Adventures Of Chung Ling Soo!
Ben Dilworth is no slouch either! Chung Ling Soo's police "counter-foil" isnone other than old London "Jack" (police man) Inspector Wilberforce and when Dilworth says "Here's a Wilberforce one-off: PUBLISH IT!" you do not argue!
And did you know you can be a Gold Master of Japanese Haiku? Well, neither did I -but guess what? Ben Dilworth is such a master and his
Osaka Brutal
features his Haiku in English!
Old saleman that he is, Dilworth just keeps on going. He produced Aesop's Fables -a darker version of the childrens tales and then went on to write two well illustrated prose albums looking at spirits and demons -
Dilworth's Japanese Yokai
and
Dilworth's
Western Yokai
.
Osaka
and the
Yokai
books were combined with
Aesop's Fables
into the one volume
The Collected Ben R. Dilworth
-though the single volumes are also still available.
Horror comics yes but also some nice illustrated prose from Dilworth in...Dilworth's Horror & Ghost Stories but for the connoisseur those stories were collected together with the Phantom Detective comic strips into The Complete Phantom Detective!
And could anyone forget the sensational
Iron Warrior Versus Big Bong:When Giants Fought
? But add to that the various Iron Warrior strips from Adventure and you get
The Iron Warrior Collection -When Giants Fought!
In the 1940s, William A. Ward's creation was to be the most graphically violent comic strip seen until the 1970s. That is some legacy. It continues....with a touch of fun!
In case you are wondering, yes, obviously there are super heroes. Mix in ancient pantheons of gods, giant robot, alien invasion, Lovecraftian dark ones and so much more that the book runs to over 320 pages then you have part 1 of Terry Hooper-Scharf's
Invasion Earth Trilogy"
or as it is titled
Return Of The Gods: Twilight Of The Super Heroes!
And epic ending with the words: "Dr Morg has killed us all" -and if you have never read the mind altering counter actuality that is
The Dr Morg Trilogy
you may be saying "What? Who-?"
And part 2 of the trilogy
The Cross Earths Caper
ought to get you in the mood for 2015s big 31st Anniversary third part of the trilogy
The Green Skies.
Again, these two are available via Amazon and other online services -just check!
If you pass the ESTC (Epileptic Seizure Test Cover) on Dr Morg well, you are fit and healthy enough to read it and to check out all the Black Tower Comics and Books at the online store -see why we are the UKs largest publisher of Independent Comics!