It appears that Mark Ruffalo's version of the Hulk (he is THE best Banner since Bixby) is to appear in 2017's third Thor movie -
'Thor: Ragnarok'
Which ought to be interesting. So far the two characters have worked well together. And the movie Hulk ain't been to Asgard yet -though he has in
Avengers: Earth's Mightiest Heroes
and, of course,
Hulk V Thor
the animated feature.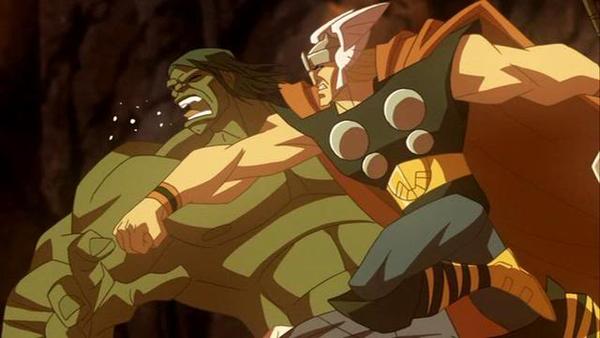 But talking about all thing Avengers-ish, this weekend I watched
Avengers: Age Of Ultron
. I read all the comments about how bad it was, how it
should
have been made -listen: get out of your mom's basement and do something constructive with your life -try writing or making a movie, even amateur...oh. No, of course, because the untalented like to tell everyone where THEY have gone wrong from behind a keyboard.
In fact, there was nothing wrong with the movie. I was a bit surprised after what I had read and heard but I think the critics (they would love people to think of them as that rather that whiners, which is what they are) had their comments ready before seeing the movie.
Avengers 2 was, quite obviously, setting up the basis for future Marvel Universe movies and characters -the mention of Wakanda, Ulysses Klaw -there was so much and it was done in a subtle way. Even the introduction of new Avengers -Wanda, Vision, Falcon, et al.
Remember that The Man From U.N.C.L.E. was used to introduce the spin off
The Girl From U.N.C.L.E.
-it's an old tried and tested method in TV and movies and even....comics.
There was that kick to the balls for that "other company" with the rights to X-Men (you know who) when Disney/Marvel totally excluded Mutants (the new dirty word) by calling Pietro and Wanda "augmented humans"!!
Also, you had the downfall of S.H.I.E.L.D. to refer to and New Avengers so as the flagship movie
Avengers: Age Of Ultron
did its job by turning in a good action story with lots of characterisation and telling the fans there was more to come. I did notice that, like the Marvel comics, the movie was heavily more sci fi focussed.
Oh...and you got feckin' Thanos at the end!!
So stop moaning an just sit back and enjoy fun and action -these are not lectures on compressed dark matter physics (those give you migraines) they are entertainment.