About Me
THE UKs LARGEST INDEPENDENT COMICS PUBLISHER Between 1984-1994 I worked freelance as a writer/artist/editor/agent in comics as well as comics journalism for MU Press,Blue Comet Press,Fantagraphic Books,Eros Comics,Dorne,Fleetway,IPC and others in the United States,UK and Europe. During this period I also produced large numbers of single panel gag cartoons for agencies in Germany such as Boiselle-Lohmann and Baaske Agency –these going to magazines and publications around Europe. I also worked as a freelance editor in comics and publications ranging from wildlife,astronomy and science fiction magazines. From 1984 to present I've been self publishing comics as well as publications on a wide variety of subjects under the Black Tower banner. I have also produced packages of work for companies in India,Hong Kong and China. I have also been working as an industry advisor for smaller companies in countries such as India,Canada,Singapore,China,Europe and the US. hoopercomicsuk@yahoo.com
View my complete profile

Tuesday, 5 May 2015
Well, I've managed to -painfully- draw a good few pages for
The Green Skies
over the weekend and am just working on the expanded German section. So I want to get back to that.
However, John Schiltz -I posted some of his D-Gruppe pages a few days ago- has come up with a surprise.
Anyone remember me writing that Ben Dilworth and I had once drawn a couple Hong Kong super hero pages? I don't think it was actually a full story just messing about one weekend while he was in Bristol. I've not seen those pages for years. Lost.
But no longer lost!
Mr Schiltz has found the two pages and I've given them a quick touch-up (ooh!) so, for Mr Dilworth -here you go!
Monday, 4 May 2015
Don't say that I NEVER bring you goodies to watch!!!!


The Hollywood Reporter carries the first photos of Task force X -The Suicide Squad assembled:
https://twitter.com/hashtag/SuicideSquad?src=hash
and you can read a bit more at Comic Book Movie:
http://www.comicbookmovie.com/fansites/KingPatel/news/?a=120032
Suicide Squad will feature:

Director: David Ayer

Will Smith as Floyd Lawton/Deadshot

Jared Leto as The Joker

Margot Robbie as Harleen Quinzel/Harley Quinn

Viola Davis as Amanda Waller

Joel Kinnaman as Rick Flagg

Jai Courtney as George "Digger" Harkness/Captain Boomerang

Cara Delevingne as June Moone/Enchantress

Ike Barinholtz as Dr. Hugo Strange

Jim Parrack as Jonny Frost/Pseudo Joker

Adewale Akinnuoye-Agbaje as Waylon Jones/Killer Croc

Jay Hernandez as El Diablo

Adam Beach as Christopher Weiss/Slipknot

Karen Fukuhara as Tatsu Yamashiro/Katana

Raymond Olubowale as Nanaue/King Shark

Common in an undisclosed role

Suicide Squad lights up theaters August 5, 2016
Well, as usual, BBC news has fluffed it all up. But at least everyone else has carried the sad news. Here from The Huffington Post:
http://www.huffingtonpost.co.uk/2015/05/04/grace-lee-whitney-star-trek-dead_n_7202394.html
'Star Trek' actress Grace Lee Whitney has died of natural causes, at the age of 85.
The star, who played Captain James T. Kirk's (William Shatner) assistant Janice Rand died at her California home on Friday, her son has confirmed.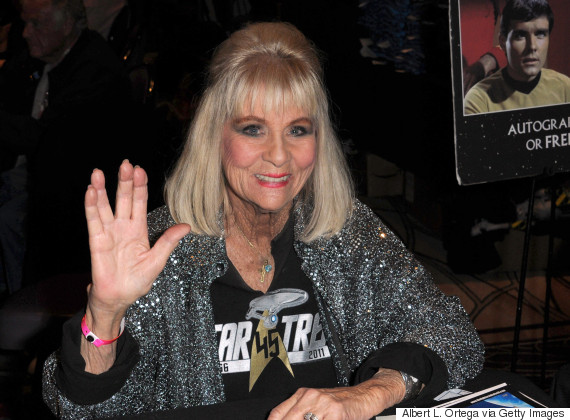 Grace at a 2012 'Star Trek' convention
Grace played Janice in the original TV series, and later reprised her role in four of the franchise's films, and the 1996 series 'Star Trek: Voyager'.
William Shatner has paid tribute to his Grace on Twitter, writing:
Her career began in the 1950s, and Grace starred in a number of other high-profile projects, including the film 'Some Like It Hot'.
In 1998, she released an autobiography, in which Grace revealed her struggle with alcohol and substance dependence.
Grace credited 'Star Trek' fans with helping her through tough times, and the star was praised for her openness and honesty when it came to speaking about addiction.
"When I told the fans I was an alcoholic, they all applauded," she stated in 2013. "When I told them I had given myself to a higher power, they cheered again.
"I'm in a great place because I've gone full circle."
Tempus fugit
Sunday, 3 May 2015
Ahhh. I do wish people would read posts before having as arse burger.

I did not ever -ever- state or hint that women should not be reading comics. I encouraged my young niece to read comics when she was a tot so get it straight. Read what is written.

If -if- any of the women currently jump onto the comic scene become real comickers then great. The more the merrier and the same applies to all those men who are in the same category.

Mass buying huge stacks of comics then saying "I have no idea what this is -is it any good -leave a comment!" shows what you are.